Have you ever wondered what it takes to make your emails hit the inbox?
If you involve with Internet Marketing for quite some time then you know how Important Email Marketing is…
I know you are sick of listening this BUT this post is different so pay close attention!
This is NOT about another training that will teach you how to build email list, how to write converting emails and how to do email marketing…
This post is about How You Can Increase Inboxing…
Yes that's right… BUT!!!
What if you knew how to write high converting emails and what if you were the best copywritter but you couldn't deliver your message to your prospects/customers…
Yeah you guessed right. I'm talking about SPAM Folder.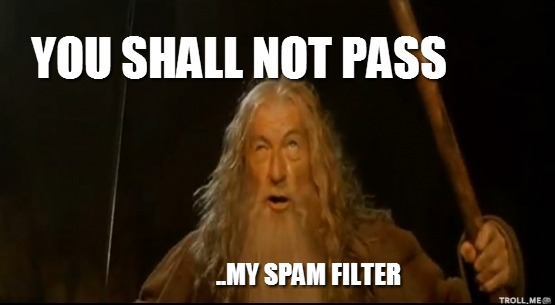 Become the best email marketer in the world, it doesn't really matter if your messages can't hit the Inbox Tab!
Don't you agree?
Now, Be Aware!
NEW LAWS ON PRIVACY DATA COLLECTION will start affecting big companies like Facebook etc… but also email marketers WORLDWIDE…
…So make sure that you are not left behind otherwise you will see your business and your email campaigns going down dramatically…(less opens, less clicks, less sales and bans!)
We all know that "money is in the list" but if your subscribers aren't receiving your e-mails, YOU'RE TOTALLY SCREWED!!!
When you realize that your emails are not delivered,  the most common actions every marketer takes is :
Changing your "From Domain"
Changing your "From E-mail" address
Changing your auto-responder account
Try self-hosted solutions that are extremely expensive
And much more…
Most marketers blame autoresponder and for years move from one autoresponder to another.
Well I have to admit..!!
I'm a person who have tried 3-5 different autoresponders and many self-hosted solutions but the truth is that it doesn't really matter.
Recently I learned couple things about INBOXING strategies and about some actions I need to take in order to increase my inboxing!
So most of the time it doesn't really matter if you are using Aweber, Getresponse, Active Campaign etc… or any self-hosted solution. It's all about the way you do email marketing and the actions you take. If you take the wrong actions and don't be careful your emails can easily end up to SPAM folder and believe me, it's really hard to get moved out of the Spam folder!
When it comes to email marketing and more especially how to get better delivery/inboxing and how to avoid spam folder, there are a lot of stuff to learn.
I'm still learning and studying about it!
Hopefully a good course called Opened Rate Solved helped me a lot and now I have better understanding and already started to implement things that I learned from that course.
The bad news is that I can't write a post about how to improve inboxing because 1) I'm still studying it and learning and 2) there are a lot of stuff and it's really hard to write a single post!
BUT…
The GOOD News is that you can take your own copy of Opened Rate Solved today!
It's a really good course, really cheap and there's a lot of stuff to learn inside.
Unlikely with other courses this is a good course with quality and very helpful content!
It's created by Michel Sirois an email marketer and traffic provider (solo ad seller). Michel is a person who knows his stuff and as a well known solo ad seller for many years is a man that you can absolutely trust when it comes to email marketing & inboxing.
I will honestly say that this is a 100% recommended not matter what your marketing level experience is!
Not only he teaches you the Dos and Dont's but also teaches and shows you exactly how he is implementing them in his own business!
It's clear that this post is not a review and it doesn't look like my in-depth reviews I use to do.
This post is more like an announcement and gives you a notice/warning about the upcoming changes on data privacy that will affect advertising companies, autoresponders and email marketers on 2018.
And of course since I found a good course that can help you stay safe and increase your inboxing , I have to mention it and recommend it to you!
I have to warn you though…
This is not a course that will teach you a secret method or how to become the best copywritter in the world.
It's based on how you can increase your inboxing while at the same time you can avoid getting banned from any autoresponder.
Imagine that you have a list of 100 people but 80 of the emails end up to spam folder and only 20 on the inbox tab…
Now imagine the opposite!
Out of the 100 emails, 80 hit the inbox and 20 spam folder… this alone can change your whole business and increase your sales like crazy!
Imagine how much more sales you could make if you could hit the inbox tab.
I'm not saying that you will hit 100% inbox every single time but if you apply everything inside Opened Rate Solved then it's 100% Guaranteed that you will increase your inboxing…
This may not sound fancy like other shinny products that promise $200/per day but believe me,  it worths your attention!
So even if you are still not sure what I'm talking about, I will recommend you to go and checkout Opened Rate Solved right now and then decide if this is for you.
In my opinion, anyone who has an email list or plan to build an email list (which I highly recommend) must grab  Opened Rate Solved and learn from it.
If you are a begginer then even better! As a begginer you can learn the right way of doing email marketing and apply strategies that will ensure better inboxing…
And as always every time I suggest or promote something good, I giveaway stuff and bonuses that will increase value!
This time is not different!
So anyone who grabs Opened Rate Solved will also receive a crazy bonus that I haven't offered before!
You will get Mailit plugin as a special bonus! Checkout Mailit Sale page (Value $67)
Which means that you can now have your own self-hosted solution to use it for sending your broadcast emails, build your own list with unlimited subscribers without autoresponder fees  or even use it as a backup solution… just in case!!!
==> Get Open Rate Solved + My Special Bonuses! <==
Conclusion – Recap
Opened Rate Solved is good for beginners, intermediates and pros who are not IN-BOXING as much as they would want. –  Methods can be applied to any business that is collecting leads, no matter the niche.
And you can see results as soon as you implement the methods inside Opened Rate Solved.
It will work through your EXISTING list and also when you send fresh traffic to your list, you will see results INSTANTLY… if your e-mail follow-ups are good.
No matter if you are ready or not to take the next step… I suggest you click here and read the sales page carefully!
As said earlier on the beggining of the post, BIG changes are coming to Privacy Data Collection Laws and if you don't want to be affected and don't want to see your email marketing going down then I suggest you give a closer look to Opened Rate Solved.
And as said above. If you grab Opened Rate Solved along with it you will also get Mailit Plugin (value $67) as a special bonus and a thank you for putting trust in me and my partners!
==> Get Open Rate Solved + My Special Bonuses! <==
To Your Success,
P.S. Questions or Comments?
I love hearing from you guys! So please just leave me a comment or question in the comments section below or send me an email to [email protected]!